Seqex Testimonial on Depression and Anxiety
I was diagnosed with major depressive disorder and anxiety July of 2017.  What I did not realize is that I had struggled with this all my life…but with increased work stress and other personal stressors, the condition became unbearable to the point where I was unable to work or interact with my family and friends.  I was determined, not to be placed on medication, as I wanted to get to the core of my condition and learn to deal with it from the root as I knew this was a condition I would need to manage for the rest of my life.  That said, I agreed with my doctor that if I was unable to move forward after period of time, I would consider medication if my doctor felt it was necessary.  As part of my treatment, I was seeing two different Doctors for two different therapies 1/week over several months….it was very difficult and taxing and while there was some progress…I still struggled.  One of my biggest issues was being able to sleep…and as was learning, without sleep everything falls apart.  There came as time in october 2017 that I did agree to try sleeping pills….I took one dose per my doctor's instructions and was very negatively impacted by the side effects….to the point I could not function the day the pill had been taken and even up to a few days later.  The days that I took sleeping pills to help me sleep, my depression seemed to worsen to the point, I would not even get out of bed….I tried half the dose and still I found the effects to be unbearable.
Enter Health Energies….while in Collingwood for March break 2018 I decided I would visit Health Energies to try the Seqex bed again….a few years back I had had an opportunity to try the bed and recalled having the best sleep ever so thought I could try it again.  After speaking with Kim, I decided I would try the bed every day for the week while we were in Collingwood and see if there was any relief.  During this time a couple of things happened….after my first session, I noticed, I was peaceful and happy….and rather than retreat into a dark room, I wanted to be around people…this continued for the week…I had not felt this way for a very long time.  Second, I was able to finally sleep….and my quality of sleep was vastly improved.  I found myself, wanting to go to bed earlier and sleeping through the night, and waking up refreshed without any nasty side effects of medication.  Third, my family noticed my shift in mood.  My husband was in awe of how much happier and at ease I was, so much so that he encouraged me to purchase my own Seqex so that I could continue my work with the Seqex.
At this point, my symptoms have improved dramatically, I continue to use Seqex to help me when I encounter sleep issues and when I feel uneasy due to my anxiety.  I also continue to pursue therapy, but it is significantly reduced, with one Doctor and is really more a maintenance visit.  I am so grateful and happy I was able to help myself recover and without the need to take anti-depressants.  I have resumed activities that I once enjoyed but had stopped because of my depression and anxiety, such as running, cooking, spending time with family and friends.  I continue to use Seqex as a preventative measure to ensure I continue to achieve optimal sleep and keep my anxiety in check.  I would highly recommend trying Pulsed Electromagnetic Field Therapy either on it's own or in conjunction with other forms of therapy.
Thank you Kim and Jackie for giving me hope and options when I was sure there was nothing left to help me.
Kim M, Aurora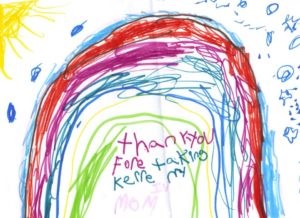 Kim's Daughter